A Moose Track
We all like funny things. Dane Cook. Family Guy. The Los Angeles Clippers. That's why I decided to put together some funny hoops pictures in one post for us all to enjoy. This is Part Two, because almost a year ago I posted the first edition; you can look at it
here
. Let's go...
Considering the big fella plays for Danny Ferry now, that's pretty embarrassing...
SAFE!
Duncan's a little over-excited here. Wasn't programmed to smile.
Ballet is more fun than basketball anyways.
Does this need explanation?
That's a problem.
There are truly some beautiful Western Conference big men.
Allen really wants......the basketball?
This move is more reliable than Hughes's jumpshot....
Two people here, ladies and gentlemen...
*Whistle* Flagrant two. Technical foul.
Parker's neck DIDN'T break.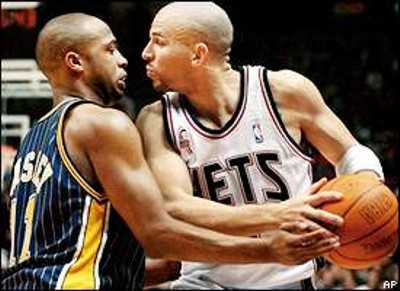 I thought Kidd was married?
What, it's just extra support.
Tony's new wrap-around move....
Thanks to all of the sites that I posted onto here from; I got all of the pictures from Google. So there it is....be easy.
--Moose