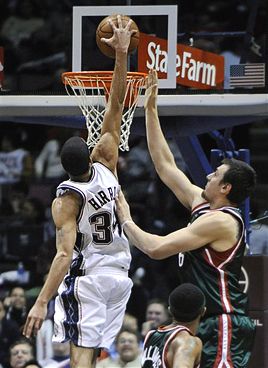 Swish.
 Two points are rained in from semi-long range in the first quarter of the New Jersey Nets at Atlanta Hawks early season match up. You look over to see who had just pulled off the nifty shot, expecting to see talented high-flying Vince Carter, or maybe your eyes deceive you, seeing recently traded swingman Richard Jefferson -- but it isn't one of these constant scoring threats of the Nets that unleashed the jumper. The player is a quick, young, skinny point guard by the name of Devin Harris.
Devin Lamar Harris was born on February 27th, 1983 in Milwaukee, Wisconsin. He is the son of Terry and Julie Harris, and he was born and raised in Milwaukee. As high school came around, Devin was an outstanding athlete, starring in basketball and volleyball at Wauwatosa East High School. Even though he was a superior volleyball player, Harris only played the sport for one year, a year in which he gained all-conference honors before giving it up to focus on his favorite sport, hoops.
After his sophomore year he was nagged constantly by injuries, forcing him to miss many camps, tournaments and games that are essential to the college recruiting process. Because of his lack of participation in these sorts of competitions, Harris flew somewhat under-the-radar throughout high school. But Devin bounced back, leading the Red Raiders to an undefeated season while setting school records along the way.
That season definitely put him on the radar, prompting Devin's school to retire his number 20 in 2007 and him to be named Wisconsin's "Mr. Basketball" for 2001. Harris accepted an offer from the University of Wisconsin-Madison to play for the Badgers soon before the 2001 school year began. As Wisconsin's most coveted recruit, Harris started right off the bat for the Badgers, seeing as they were an unheralded team that didn't have much to lose. They unexpectedly won the Big-10 championship (shared with Indiana, Illinois and Michigan State) after being projected to come in 9th place in the conference.
His sophomore year was a slight breakout year for Harris, after averaging 12.3 points, 1.8 assists and 1.3 steals per game as a frosh. Alongside fellow sophomore Mike Wilkinson and senior Kirk Penney, Devin led the Badgers to another Big-10 championship, taking them to the Sweet 16 in the NCAA Tournament. People realized how magnificent of a player Harris was that year, and he was put on the radar as one of the nation's top young point guards. 
After an equally as stellar junior year, receiving Big-10 Player of the Year honors, as well as being named Second Team All American and winning the Silver Basketball Award, Harris decided not to return to Wisconsin to attend for his senior year, and instead declared for the 2004 NBA Draft, a selection that was highlighted by the likes of Dwight Howard, Andre Iguodala and Al Jefferson. Harris was drafted by the Washington Wizards and subsequently traded to the Dallas Mavericks. The plan for Harris was to develop him slowly under the mentor that was top-tier court general Steve Nash, but that plan ended up ruined when Nash left the Mavs to go to Phoenix through free agency.
During his rookie season, Harris was left without a good share of the minutes in Dallas at the point guard position, averaging 5.7 points, 2.2 assists, 1.3 boards and 1 steal per game in 15.4 minutes of play. He was quietly second in the NBA in steals per minute at 3.15 behind the Wizards' Larry Hughes. He came back for the 2005-06 season as an improved baller, fans and players alike recognized his speed and quickness, comparing him to the likes of Leandro Barbosa and Dwyane Wade in that attribute. His minutes increased, but not significantly, averaging 9.9 points, 3.2 assists, 2.2 rebounds and .9 steals in 22.8 minutes per contest.
Devin's minutes continued to increase during the 2006-07 season, with him improving in every statistical category possible. He averaged 10.2 points, 3.7 dimes, 2.5 boards and 1.2 steals per game, outstanding numbers for a player with only 26 minutes per game. After 21 games in this season Harris was named starting point guard for the Mavericks, even if he didn't play significant starter minutes, and he began 61 games for Dallas that year.
He and league MVP Dirk Nowitzki led them to a stellar team record 67 wins that year, only to be upset by Baron Davis and the eighth-seeded Warriors in an exciting first round playoff. Harris came back to the Mavs for the 2007-08 season, named co-captain of Dallas alongside Dirk, and while playing for them he averaged 14.4 points, 5.3 assists, 2.3 boards and 1.4 steals in 39 games, again improving on almost all of his key stats.
On February 19th 2008, Harris was involved in a mass trade, sending him, Keith Van Horn, Trenton Hassell, DeSagana Diop, Maurice Ager, $3 million and 2008 and 2010 first round draft choices to the New Jersey Nets for Jason Kidd, Malik Allen and Antoine Wright. The Nets traded their franchise player, one of the top point guards in the league (he once was, at least) for Harris and the other players, and the Nets' plans of rebuilding were evident, trading the present (and past) for the future, putting the starting point guard job straight into the eager hands of Devin Harris.
With increased minutes playing for the Nets the rest of that season, Harris exploded, averaging 15.4 points, 6.5 dimes, 3.3 boards and 1.4 steals per game, again beating out his averages of past years. The Nets didn't play very well for the rest of that season, the younger players being without experience and, well, ability, and they missed the playoffs for the first time in the last seven years.
But Harris was given (and still is given) a great opportunity, and is considered the present and future of the struggling Nets. They drafted potential future stars in center Brook Lopez, forward Ryan Anderson and point guard Chris Douglas-Roberts, and with their core of Harris, Vince Carter, Yi Jianlian and Bobby Simmons, the Nets look decent for the future (that is, if their young dudes can live up to potential).
This year, Harris is sure turning heads. At the moment he is averaging 23 points, 6.2 assists, 4 boards and a steal for the semi- subpar New Jersey Nets, exploding for three games (in a row) scoring 30 plus points, the best showing of these three being a 38 point performance against the Detroit Pistons on an ankle that was discovered after the game to be sprained. He is being recognized as one of the top point guards in the NBA, and we are all bringing up one question: Can we put 25 year old Devin Harris in the Chris Paul-Deron Williams argument?
Harris is definitely a great point guard on his way to becoming a top-tier court leader (if he isn't already), but he doesn't deserve to be penciled in as among these players for a few reasons. The first reason, the outstanding things he's done hasn't been consistent. He needs to keep up these outstanding and unusual scoring numbers alone AND average four more assists than he already does. This is impossible because he just doesn't have the same amount of passing and playmaking skill as Paul and Deron do, and he doesn't have the supporting cast.
At the moment the Nets can't come close to keeping up with the Hornets or the Jazz, and with elite scorers around the other two (West, Stojakovic, Chandler (kinda), Boozer, Kirilenko) and not as outstanding scorers around Harris, the assist numbers won't be able to touch D-Will or CP3. Harris can still be a top-rate point guard, he just doesn't have the ability to perform at the level of the other two.
As a player, Devin Harris has a solid ability to score, as he has displayed greatly so far this year. At 6'2", 185 pounds, Harris doesn't have incredible girth for a point guard, and has slightly below average strength. At 25 years old Harris is one of the fastest players in the NBA, and that helps him rack up the steals. He is an excellent defender from all parts of the floor barring the post, and for a point guard he is average on the defensive boards.
He is an average shooter and superb ball handler, and he is great driving to the basket, getting to the charity stripe almost at will, where he thrives (.829). He is an about average passer, and this part of his game is improving. Harris isn't oustanding from behind the three point arc (.320), but it isn't horrible. Devin is great on the fast break and in transition, able to throw down or finish with a layup and soft touch. Harris is young and improving, and he's the brightest spot on the (rising, but still borderline terrible) Nets. And if he keeps up his great play, an all-star selection is not out of the question.
So when you watch the Nets play basketball and you see a jumper fall through on New Jersey's offensive side, or a player cut to the hole and dunk on the seven footer, don't just assume it's Vince. Move over, Chris Paul. Move over, Deron Williams. Move over, Steve Nash.
There's a new kid in town who's ready to join you.