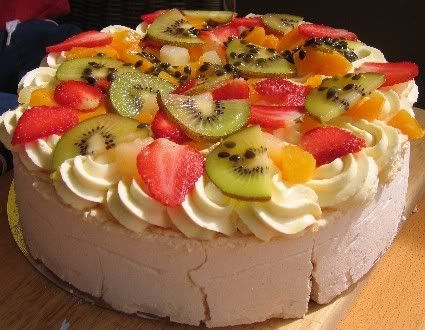 Named after Anna Pavlova (yes this is true) and respected world wide by people such as myself Pavlova is THE best combine dessert out there. No doubt about it.
When I say combine, I mean mutliple products going into one item. Not eggs, milk etc.
But fruits, creams, icings, toppings. That sort of stuff.
As Australian as crumpets, vegemite and the baggy green, Pavlova was invented in the 1930's by some guy who had a good sense of food and taste. *It was probably a woman though, since they were in the kitchen/house during that time the majority of the day though*.
Anyways, recently I've heard that since a typical pavlova has kiwi fruits on it, it must have been made in New Zealand. Will the kiwis also say that Dolly the Sheep is a new zealander next? Or Evermore? Or even the damn Flight of the Conchords(they actually are though)?
No this doesnt have anything to do with basketball. Good observation. This is just my favourite dessert.

**update** with exams/school. I have now done 6/7 with maths finished today. And Business Studies tomorrow (but Im dropping, so I dont care). Also, I will, along with DP (good job on the 1st V/Varsity as well my man :) and RV (who was in Houston when the hurricane hit) be bringing our own top 50 to the blogosphere.
I am also competing in the NSW state schools championships as the starting 3 for my school. We wont win but I'll let you know how it goes. Also, Money Bill Williams (from the slam boards) will be competing with me as we try to take out a big cash tournament in the Illawara. I'll holla back at you all about that.
Anyways, everyone stay well and stay (esp. you RV) safe.
PS, thanks for the add Joel O's.
Peace, Hursty.